Download
iSafeguard is available in three editions, Microsoft Store Edition, Portable Edition, and ClickOnce Edition. You may download and install the edition that is most appropriate for you. Or you may install multiple editions on the same computer, or on different computers.
They are all FREE for personal use!
Microsoft Store Edition
Click the button below to install iSafeguard™ directly from Microsoft Store on your Windows 10 computer. If you are not running Windows 10, you may choose the portable edition or the ClickOnce edition.
Portable Edition
We offer a portable edition for installing on USB thumb drives, or on a folder of the hard drive on your computer. The portable edition is especially useful if you are on the go, or you can't install software on your computer.
Follow these simple steps to get the portable edition up and running:
Click here to download the zip file that contains all files needed to run the software
Unblock the downloaded zip file (see screenshot below)

Open Windows File Explorer, and use it to locate the downloaded zip file
Right click the zip file, and then select Properties
Check the Unblock checkbox on the General tab, and then click the Apply button

Extract all files in the zip file to a fodler on your USB drive or hard drive
Double click the file named "mxc.Shell.exe" to launch the software
Optionally, you may create a shortcut to "mxc.Shell.exe" on your desktop and rename it to "iSafeguard"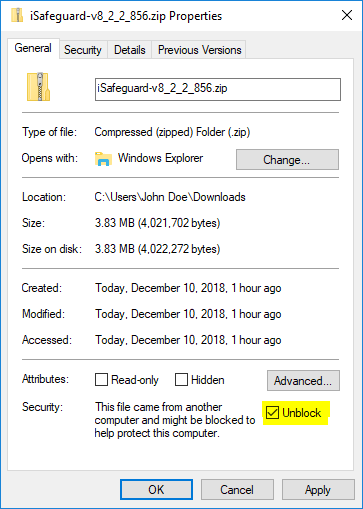 If you are running Windows 7, be aware that you may need to download and install Microsoft .NET Framework 4.6.2 or higher. The quickest way to find out is to run the software. If it runs then you computer meets the system requirements of running the software. Otherwise click here to download and install Microsoft .NET Framework 4.6.2 from Microsoft.
ClickOnce Edition
If you are still using Windows 7 and prefer not to use the portable edition, you can click the button below to download and install iSafeguard with ClickOnce technology.
The software update URL has been changed. If you have installed version v8.1.5 or earlier, you need to uninstall that version first, and then download and install current version.
System Requirements
To run iSafeguard the following requirements must be met:
Windows 10, Windows 8.1/8 and Windows 7, including both 32-bit and 64-bit versions

RT tablet editions are not supported

Microsoft .NET Framework 4.6.2 or higher
Limitations for Unregistered Users
For personal use, iSafeguard is free and does not require registration. However unregistered users have the following limitations:
Using G Suite email address, i.e. "you@yourdomain.com", is disabled - only "you@gmail.com" is allowed
In summary unregistered users can still use the full power of the software, except they can't be used with G Suite email address.
Current Release
iSafeguard v8.7.0 - Current Release
Note: if you have used the software before release v8.1 you still need Microsoft Sync Framework until you have synced all your data, including your backup data and data you shared with others.